"Get to Know Your Board Members"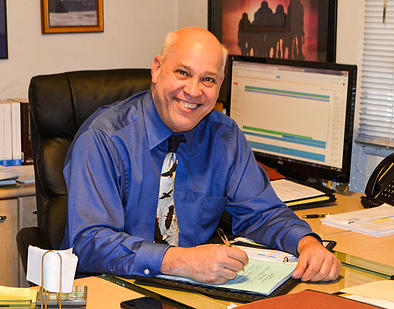 Robert E. Krysak, Esq.,
Secretary, Ramona H.E.A.R.T. Mural Project
Bob Krysak is a practicing attorney, 2015 and 2018 Ramona Chamber of Commerce President, former member and chairman of the Ramona Municipal Water District Board of Directors. He served as Ramona's representative on the County Water Authority Board of Directors and is currently President of the Ramona Bar Association, President of the Committee For a Better Ramona and Vice-President of the Ramona Town Hall Board of Trustees.
Q: What led you to participate in the Ramona H.E.A.R.T. Murals Project?
Bob Krysak: As one who has always been interested in establishing Ramona as a regional destination to assist our local businesses and services, I found the Mural Project to be a valuable part of our multi-pronged endeavor to make that goal a reality.  Not only are the murals uplifting and attractive for our residents, but they are also a draw which will bring tourism to Ramona.  I also very much appreciate the arts and the role art and culture can play in inspiring a community.
Q: What do you hope to accomplish? 
Bob Krysak: It is my fervent hope that the town of Ramona will be graced from end to end with a wide diversity of unique and inspiring murals and collateral art projects to fulfill the purposes outlined above.  I hope that we will start on a trajectory of approving edgier and integrated murals to take advantage of architectural components of buildings and unique subject matters.
Q: So far, the Murals Project has produced 18 murals and 17 painted utility boxes. What do you envision for the future? 
Bob Krysak: Although the Mural Project has established a goal of 40 murals, I do not believe that should be the end.  I would like the project to continue until the last building is adorned with a mural.  I would also envision exploring facade murals to improve the appearance of some of the less attractive buildings in our town.  I also envision street and sidewalk art so that Ramona is completely "dressed up."
Q: Is this project part of a larger vision you have for Ramona?
Bob Krysak: Yes, it most certainly is.  As the President of the Chamber of Commerce, my overriding focus is on improving the business climate in Ramona for our local businesses and services, as well as making Ramona a desirable and fun place to live.  Art and culture is a critical component of this, as well as the business mix on our Main Street.  I envision a Ramona Main Street, which is lined by sidewalk cafes, restaurants, breweries and wine tasting facilities, unique gift shops and entertainment venues, all against a backdrop of art.  That is what I envision as a home run for Ramona, and I am working towards that goal.